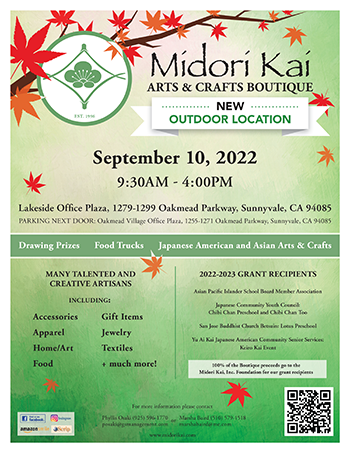 Midori Kai Live Outdoor Boutique September 10, 2022
Thanking our sponsors, vendors, non-profit recipients and customers for a very successful event. We had over 2,000 customers – a record number of visitors to our event!
To Midori Kai Boutique Customers:
Midori Kai is delighted to announce that the 2022 Midori Kai Arts & Crafts Boutique
will be a "LIVE OUTDOOR" event as follows:
2022 Midori Kai Arts & Craft "LIVE OUTDOOR" Boutique
September 10, 2022

9:30 am to 4:00 pm
Lakeside Office Plaza
1279 – 1299 Oakmead Parkway,
Sunnyvale, CA 94085
11 am to 1 pm – live musical entertainment by "Hardly Strictly Hawaiian Aloha Band"

We are pleased to announce that the Midori Kai 2022/2023 Non-Profit Recipients are as follows:
We look forward to seeing you on September 10, 2022 at our 2022 Midori Kai Live Outdoor Arts & Craft Boutique!
Hope to see you on September 10, 2022…
Best Regards,
Phyllis Osaki & Marsha Baird
Midori Kai Co-Chairpersons
---
Our 2022 Boutique Sponsors
Diamond Botan

Olander Family Trust
Steve Hallgrimson Family Foundation

Emerald Kiku

 

Platinum Sakura

GS Management Company – Phyllis Osaki

Gold Ayame

MegLaur, Inc. – Carol Eejima
Gary & June Sakamto
Keith and Karen Lee
Heritage Bank – Janice Miyatake
Anonymous

Silver Tsubaki

Tom & Judy Kumamaru (Shuei-Do)
Kaye Masatani
Amy Young
Lynette Nishikawa
Masaru and Marcia Hashimoto
Robert & Ida Fujii
Sally Takemoto
Jeff and Katie Takemoto
Eric Takemoto
Marjorie Quon
Joanne Webster
Robin Shinagawa
Charlotte Hiroshima
Marge & Alan Taniguchi
Suanne & John Higashidani
Linda Kato and Marshall Maple
Ruth Shikada
Carolyn & Greg Davies
Hardly Strictly Hawaiian Aloha Band
Cheryl Watanabe
Aline Younge

Friends of Midori Kai

Nami Creations
Paul and Anna Ko
Gaye Tsudama
---
Special Acknowledgments:
Lakeside Offices, LLC – Charles & Robert Yoneda owners
Oakmead Village Office Business Park Association
Vicki Taniguchi, Graphic Designer
SV3 Designs, Saras Venkatram, Web Master
Rich Saito, Safety Consultant
Hikari Farms
Volunteers:

Bruce Baird
Pete Decena
Kevin Hubbard
Tad Kato
Norman Kawano
Gordon Koo
Gary Sakamoto
Brian Sasaki
Darren Sera
Trenton Sera
Kay Utsumi
Irene Nakamitsu
Ron Nishimura
Steve Fong
Reiko Scilingo
Sarah Sakamoto
Jon Pocock
---
Our 2022 Vendors
---
Our 2021 Vendors