Welcome
Midori Kai is a non-profit corporation established in 1996, and founded with the objective to create an effective organization comprised of Japanese American professional women leaders with various business and creative backgrounds, who are committed to community involvement, supporting local charities, mentoring youth, and celebrating our Japanese American heritage.
What is the meaning of Midori Kai?
On November 12, 1996, founding Directors approached Reverend Bunyu Fujimura, Reverend Ejitsu Hojo and Reverend Junjo Tsumura, retired ministers, requesting possible names for our newly formed organization. They suggested Midori Kai. In Japanese, Midori translates to "evergreen"or "everlasting" and Kai means "organization." Our founding Directors agreed this name was very fitting for the new organization.
"For the Sake of the Children"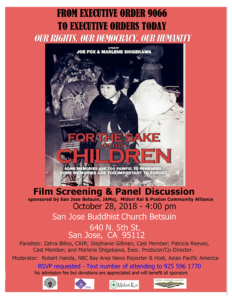 Please mark your calendars for Sunday, October 28, 2018, 4 pm at the San Jose Buddhist Temple Gym, (640 No. 5th Street, San Jose, CA 95112) when Midori Kai will be one of the sponsors of the documentary film, "For the Sake of the Children". Marlene Shigekawa, a former Midori Kai Board Director, is the Executive Producer and co-Director of this film about the WW II Poston Internment Camp.
We welcome you to attend this special South Bay showing, which will be followed by a panel discussion with Robert Handa, NBC Bay Area News Reporter as the moderator. If you plan to attend please RSVP by either sending a TEXT to (925) 596-1770 or email Phyllis Osaki at posaki@gsmanagement.com, with the number of people attending and your name. There is NO CHARGE for admittance; however, any DONATION is welcome.
We look forward to your attendance! Hope to see you on October 28th for the film "For the Sake of the Children"!
Annual Midori Kai Arts & Crafts Boutique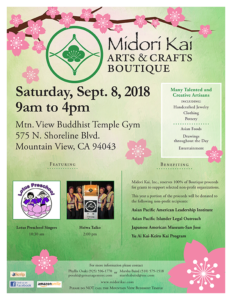 The annual Midori Kai Boutique is our primary — and often singular — fundraiser.

As a non-profit corporation, Midori Kai, Inc. reserves 100% of the profits from the boutique for awards to non-profit recipients, and each year, at our boutique, our generous vendors contribute 10% of their gross sales to Midori Kai, Inc. A portion of the boutique proceeds are donated to selected non-profit organizations for a two-year period.