Save the Date!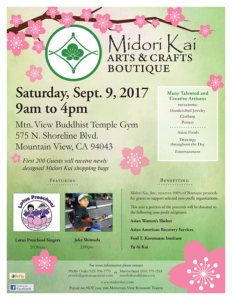 September 9, 2017
9 am to 4 pm
Mountain View Buddhist Temple
575 N Shoreline Blvd.
Mountain View, CA
The annual Midori Kai Boutique is our primary — and often singular — fundraiser.
As a non-profit corporation, Midori Kai, Inc. reserves 100% of the profits from the boutique for awards to non-profit recipients, and each year, at our boutique, our generous vendors contribute 10% of their gross sales to Midori Kai, Inc. A portion of the boutique proceeds are donated to selected non-profit organizations for a two-year period.
Proceeds from the 2017 boutique will support the following non-profit organizations:
Asian American Recovery Services
Asian Women's Shelter
Fred T. Korematsu Institute
Yu-Ai Kai – Keiro Kai
Learn more about becoming a Vendor
Learn more about becoming a Sponsor
2016 Arts & Crafts Boutique Sponsors
Ayame (Iris)
$500-$999
GS Commercial Management, Inc. – Phyllis Osaki
Lynette Nishikawa
Kimura Gallery, Machiko Shiozaki
Gary & June Sakamoto
Anonymous
Tsubaki (Camellia)
$100-$499
Eiko Amano
Carolyn Cervantes Davies
Pete & Connie Decena
Kathleen Frost
Robert & Ida Fujii
Suanne Higashidani
Allan Hikoyeda, Attorney at Law
Carol Baird Holt
Julie Hubbard
JoAnn & Tad Kato
Gordon Koo & Pam Yoshida
Kelley's Kookies
Ben & Kaye Masatani
Tsubaki (Camellia)
$100-$499
Judy Miyake
Mountain View Buddhist Temple – Girl Scouts
Meglaur, Inc. – Carol Eejima
Ron & Wendy Mukai
Majorie Quon
Ken and Kathy Sakamoto
Cynthia Sasaki Designs
Minami Tamaki LLP
Ukulele Source – Smiley Kai
Joanne Webster
Vicki Wynne, Certified Esalen Massage Therapist
Michael Yoshihara
Friends of Midori Kai, Inc.
Glass Studio
Pomegranate Designs
San Francisco Giants
Walter Lim & Jacqueline Jew
Paul & Anna Ko
Joyce Oyama
Eileen Sachiko Tabata, Sachiko Collection
Sozai Corner
Nancy Taniguchi
Gaye Tsudama, Mariko III
David & Carolyn Ann Tuite
Cheryl Watanabe
2016 Vendors